Together Elk River Spirit Week
By now you've likely heard or seen promotions for the #TogetherElkRiver initiative, a joint effort by the Elk River Area Chamber of Commerce and the City of Elk River Economic Development Authority to encourage, engage, and support local businesses, non-profits, and neighbors in need through challenging times.
In the spirit of keeping the great momentum going, we're inviting everyone to Support Together Elk River Spirit Week from August 23rd-29th. Each day will feature a different theme and ways to support our local community while having a bit of fun!
Make a Difference Monday - August 24th
Volunteer or make a donation to one of Elk River's many charitable organizations. Find out how you can make a difference here.
Tourist Tuesday - August 25th
Take a photo or a selfie of your favorite place in Elk River - it could be a park, a retail establishment, or your favorite eatery. For a list of cool places to explore in the city, click here.
Wear it Wednesday - August 26th
Wear your favorite apparel or show off some swag from an Elk River business. Click here for ways to participate in Wear it Wednesday.
Get Out/Take Out Thursday - August 27th
Dine in or order takeout from one of Elk River's many amazing eateries. Find out what's on the menu here.
Find it Friday - August 28th
Have a fun scavenger hunt for Together Elk River decals (yard signs, window clings, stickers) and tag the business on social media so your friends and neighbors know who is participating and could use some love from the community!
Use #TogetherElkRiver when participating in any of the five spirit week activities and we'll be sharing and shouting out to those contributing throughout the week. Also, stay tuned for promotions by local businesses to coincide with the daily themes. If you're a business wanting to get involved in Spirit Week, please contact our office.
How Businesses & Nonprofits Can Participate
We'd love for you to join us in celebrating Together Elk River week! Get your staff in on the fun and create some great promotions for your business. Let us know how your business or nonprofit is participating and we will share your specials with our audience while you promote them to yours.
Promotion ideas for businesses:
Promote your own in-store specials
Bounce-back coupons
Cross-promote with your business neighbors
Run your own social media campaign using the Together Elk River supports
Create a special Together Elk River menu item
Promote and sell your own SWAG
Offer discounts for gift card purchases (like you do at Christmas)
Silly dress-up days for customers or staff (like you do at Halloween)
Promotion Ideas for Nonprofits:
Have an in-person or virtual open house
Looking for board members? Tell people why they should join!
Tell people how to get involved with your organization
Share a "You may be a good volunteer if you…" post. Be sure to include all the qualities that you look for in a volunteer and don't be afraid to have some fun with it
Create a special fundraiser and promote it as part of Spirit Week
Invite people to volunteer for a day
Invite people to "sponsor" a fee or share what their donation does, i.e. sponsoring a pet's adoption fee, "a donation of $X provides meals for X families in need," etc.
Social media campaign / Go live and share information about your organization and team
Donation blitz – all donations made within a certain time period go toward a specific fundraising campaign
Meet the board/team/etc.
Share the story of how your nonprofit/organization got started
Go behind the scenes and highlight how your team members/volunteers are making a difference
Share a "day-in-the-life" of your organization's director, volunteer, or another team member
Action Steps to take:
Decide what part(s) of Together Elk River Spirit Week you want to participate in.
Decide what the promotion will be for your store or location.
Contact our office or fill out this form to share the details about your promotion no later than Friday, August 14th.
Promote Together Elk River Spirit Week on social media and at your location.
Look for ways to engage with your customers throughout Spirit Week.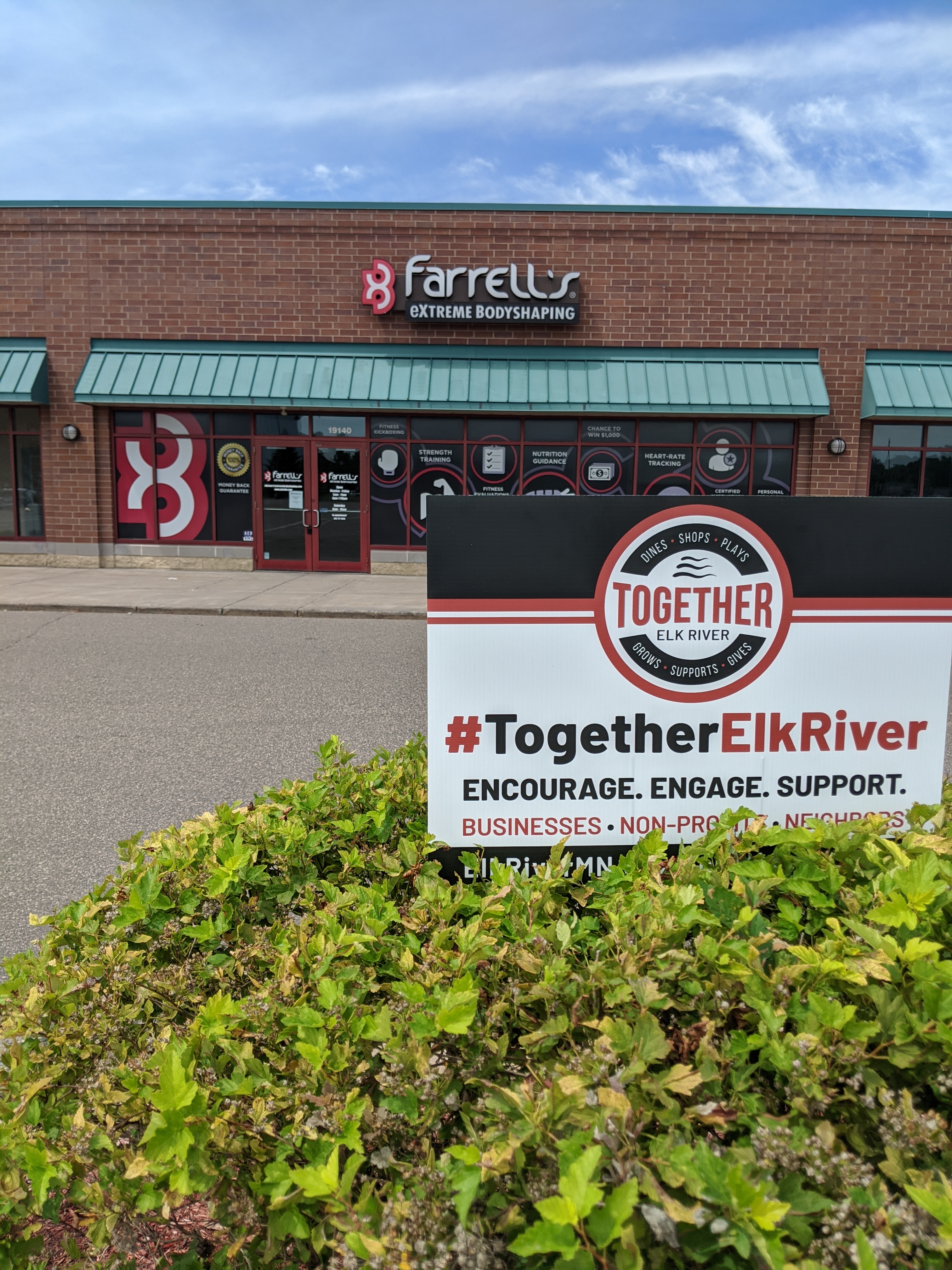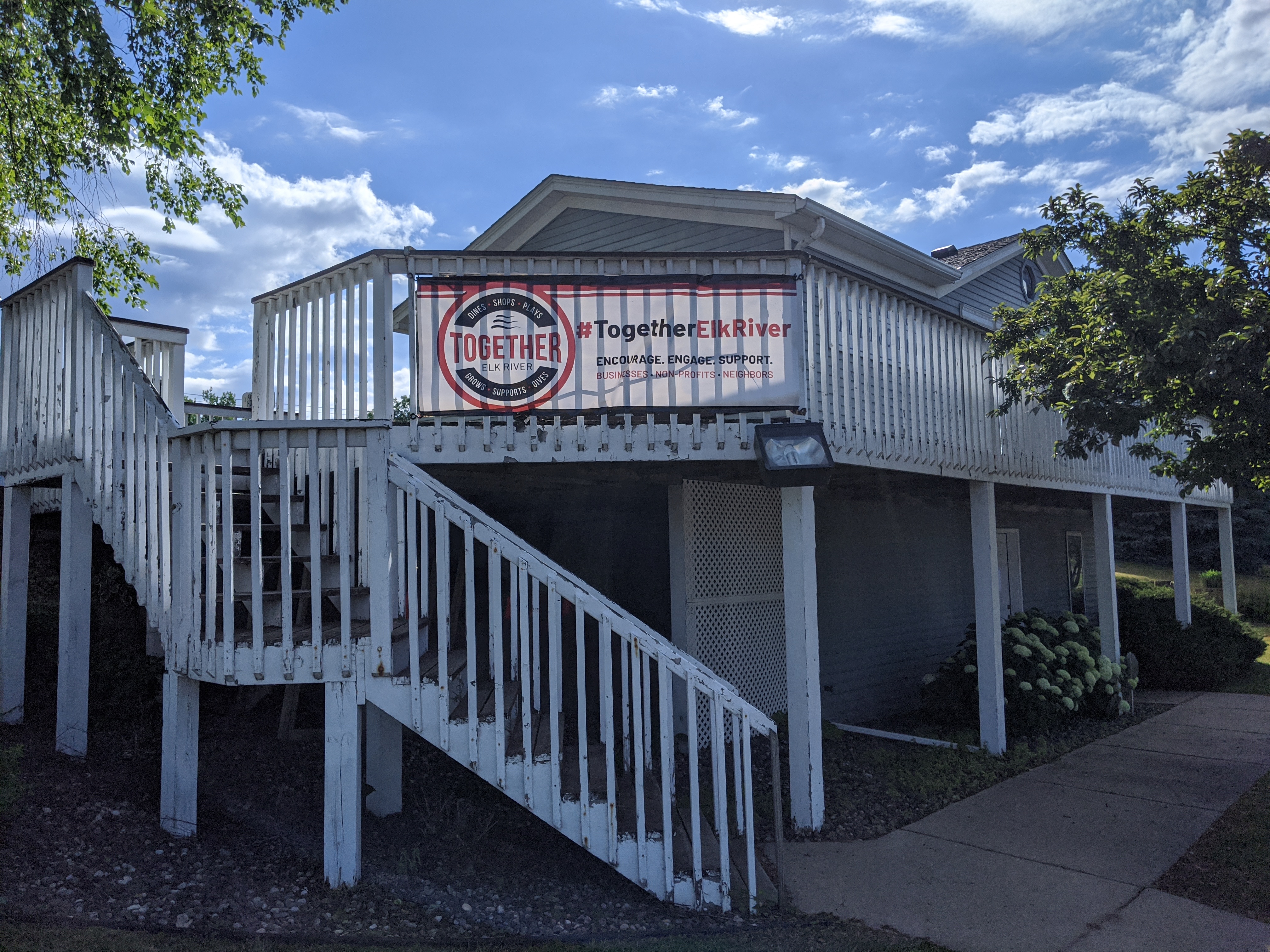 What is Together Elk River?
Together Elk River is a grassroots community awareness campaign designed to encourage a shop and support local business mindset. This community campaign is intended to remind and encourage shopping and supporting everything local.
The Elk River Area Chamber of Commerce has partnered with the City of Elk River Economic Development Authority in this "Shop Local" effort. The EDA has earmarked money from its budget as a way to support local businesses and nonprofit during tough times like COVID-19 or the upcoming Highway 169 Redefine when businesses are closed or have limited access through no fault of their own.
So far, most of the outreach has been awareness building, including creating:
Ads and articles in the Elk River Star News
A dedicated website
Directory on the City EDA website uploaded with chamber member businesses from Elk River
Yard Signs – some delivered, also available at city liquor stores
Window/Door Decals
POS Stickers
Coloring contest - turn into the Farmer's Market receive a token
Billboard (2 digital and 1 permanent)
Social Media campaign that tags local business supporters
Banners on Highway 10 and in Downtown Elk River highlighting how everyone can support local through Together Elk River's 6 buckets: Shops, Dines, Plays, Grows, Supports, Gives (Coming Soon)