2020 Candidate Forum (Virtual)
The Elk River Area Chamber of Commerce has hosted candidate forums for local political races.  We believe that local elections matter because they impact our day to day lives and the business environment. The forums were recorded live and are available for replay through the link below.
Sherburne County Commissioner Candidate Forum
Tuesday, October 6th at 5:00 PM
Elk River City Hall
All forums will be recorded and available until November 3rd to assist you when you are ready to vote. More information about the candidates can be found below.
Watch the forum
The candidate forum was live-streamed on ERTV 180 on Tuesday, October 6 at 6:00 pm. The video replay is available for viewing.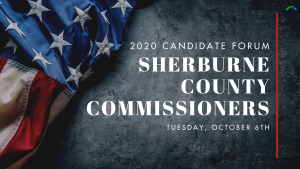 Meet the Candidates
The Elk River Area Chamber does not assume any party affiliation, nor do we endorse any candidate. We are hosting this forum to provide information about the candidates to the general public. Candidates without a bio and/or box by their name did not submit this information. All responses appear on this site exactly as they were submitted by the candidates, with no edits made.
Barbara Burandt, District 1
Barbara has lived in Elk River for 50 years. She and her husband, Dave, live on a small family farm in Elk River. They have three grown children who are all married, living in the surrounding area. They have five grandchildren.  Barbara is a public health nurse and a retired attorney. She worked in home care and hospice for more than 30 years, primarily in management and government affairs. She previously served one term on the Elk River City Council.  She is seeking re-election for a second term as County Commissioner.
Why are you running for office?
I am running for re-election because I want to continue to give back to this wonderful community where I raised my family and have been involved in community activities for many years.  In my first term, I focused on enhancing road safety, promoting prevention services for families, and supporting senior citizen programs, besides economic development and keeping taxes stable.  Looking forward, I believe my background in public health will be extremely helpful at this time with the pandemic in getting COVID-19 cases down so that our economy can open up and grow.
What previous civic and community involvement will you draw on?
One Term Elk River City Council, promoting economic development;
20+ years as 4-H/Project Leader, helping to grow new leaders in our community;
10 years as a member of the Community Health Services Health Advisory Board, focusing on health across our county; and
3 years CAER Board member, 1-year Chair, reducing hunger in our area.
If elected, what will be your top priority?
If elected, I will continue to work in areas that I am currently involved with as mentioned above.  But my priority will be to support public health in their expanded role to address needs in the county that will be necessary to control the pandemic.
Andrew Hulse, District 1
Andrew and his wife, Gay Bunch-Hulse, own and operate 18|8 Fine Men's Salons in Minnesota.  Prior to retiring from corporate America, Andrew held various executive positions in technology and aerospace, including Vice President of Business Development of Space, Missiles and Munitions, General Manager of Aftermarket Jet Engine Systems, and Vice President and General Manager of Honeywell Water Solutions. Previously, Andrew served for a decade as a Naval Flight Officer achieving the rank of Lieutenant Commander
Why are you running for office?
My wife and I have lived in Elk River for over 20 years, this is where we raised our daughters.  I love this town, this county and our country, but as a former Naval Flight Officer, an aerospace leader, and a current small business owner, I have never seen government officials in our state act the way we've seen these last few months.  If 2020 has shown us anything, it's that local office holders matter, we need to ensure we have those positions filled with individuals that put the interest of people above those of government, and are willing to take a stand when government overreaches.
What previous civic and community involvement is will you draw on if you win the seat you are seeking?
I have extensive leadership experience in the military, in the private sector in both large and small businesses, and with the government officials.  While I have worked extensively locally with our elected officials in St Paul, from former Representative Nick Zerwas, to current Representative Paul Novotny, as well as Senator Mary Kiffmeyer, I also have experience working with the Department of Defense as well as NASA.  As a small business owner, I have worked with a number of Chambers and Retail Associations.  Finally, I have twice served as President of the Lake Orono Improvement Association working with Elk River city leadership on improvement projects for the lake.
If elected, what is your top priority during your term in office?
Get government out of the way.  We have seen first-hand the damage to small businesses and individuals politicians can do, especially with unchecked power, in the name of "good intentions." We have to be diligent to keep the government in check.
Protect our freedoms.  For too long we've taken our freedoms for granted, and by doing so we've allowed politicians to slowly but deliberately erode them away.  We have to take a stand, that is why Sherburne County must become a Second Amendment Defender.
Put a brake on government spending.  County Commissioners control your property taxes. We need commissioners that realize it is not "their" money, but your money.  Therefore we must limit spending, keep taxes low, and be extremely good stewards of what money is spent.
I've lived nearly my entire adult life in Sherburne County, by way of the Iron Range. I currently call Elk River home with the love of my life Annie, our kiddos, Brooklyn, a senior at ERHS, Gavin, an 8th grader at Salk Middle School and of course our yellow lab, Gravy. Annie and I founded, Decklan Group, a local economic development consulting firm, which we have successfully grown through local, statewide and national projects.
Contact - Learn More - Social
Phone: 763-331-1923 (text friendly)
Why are you running for office?
I'm running for re-election to serve my neighbors, friends and family who call Sherburne County home. I consider myself a servant to our taxpayers and feel my knowledge, skillset, experience and relationships allow me to deliver great representation and value to the entire Sherburne County community.
If elected, what is your top priority during your term in office?
I have many priorities for my second term, however the top of that list is to continue my streak of four consecutive years of cutting the tax rate. I will prioritize lowering our county property tax rate through the continued growth and diversification of our tax base, along with aggressive and consistent implementation of technology and strategic partnerships. These efforts will also increase efficiency and the quality of services provided by Sherburne County to its taxpayers.
Anne M. Kostrzewski, District 3
Lisa Fobbe, District 5
I have proudly called the Zimmerman/Princeton area home for 23 years. It's been an honor to serve as a County Commissioner for the last 4 years. Most recently, I worked in the Ministry for the Christ Our Light Catholic Community. In addition to my county work, I serve on the Princeton Pantry and the Central MN Mental Health Board. I am the mother of three sons and Grandma to three grandsons.
Why are you running for office?
I am running for office because each day serving as a Commissioner affords an opportunity to make a difference in someone's life. I am able to use my skills in bringing people together and building coalitions to serve the local community. With a history of serving on the local and state level, I have built relationships that will help us to leverage financial and community support for projects and initiatives. Thank you for your support on November 3rd!
Bryan D. Lawrence, District 5
Bryan Lawrence is a 3rd generation farmer and has lived in Baldwin Township with his wife and four children for 25 years. He is deeply committed to his family and he farms with father and mother. In addition to serving actively in his community on the Baldwin Township Board, he is a leader in his local church. Bryan is active on the FFA advisory committee and is involved in coaching his youngest son in athletics.
Learn More | Contact
Why are you running for office?
I believe it is essential to promote a thriving local economy, empower county residents to be involved in their communities and maintain responsible fiscal management. I am qualified and ready to serve with passion, conservative common sense and leadership.
What previous civic and community involvement will you draw on if you win the seat you are seeking?
Baldwin Township Supervisor, 13 years Chairman of the Board, 5 years
Chairman, Assoc. of Townships
Chairman, Baldwin Planning & Zoning
Chairman, Sherburne County Planning - 10+ years
Sherburne Co. Board of Adjustment - 8+ years
Sherburne Co. Solid Waste Mgmt. - 8+ years
Sherburne Co. History Center
FFA Advisory Board, - 8years
New Life Church,
Covenant Member, 21years
Sunday School Teacher - New Life Church, 7years
Minnesota Turf Growers Assoc., - President
Sherburne County Farm Bureau, - President
Minnesota State Cattlemen's Assoc., - Member
Minnesota Hereford Breeders, - Board of Director
Licensed Contractor, 25 years
B.S. Degree, University of Minnesota Agricultural Business Admin.
Baldwin Township resident, 25years
If elected, what is your top priority during your term in office?
Ensure safety and security for the county.
Provide quality roadways for efficient transportation.
Lower taxes.
Fair common sense approach to growth and development.
Recognize and respect the rights of private property owners.