2020 Candidate Forum (Virtual)
The Elk River Area Chamber of Commerce hosted candidate forums for local political races. We believe that local elections matter because they impact our day to day lives and the business environment.
Otsego City Council & Mayoral Candidate Forum
Thursday, October 8th
Council at  6:00 PM
Mayor at 7:15 PM
Prairie Center, Otsego
All forums will be recorded and available until November 3rd to assist you when you are ready to vote. More information about the candidates can be found below.
Watch the Forum Replay
City Council Candidates: Jason Warehime, Rayman James & Jeff Dahl (starts at 0:45)
Mayoral Candidates: Tina Goede, Jacob Denman & Jessica Stockcamp (starts at 47:50)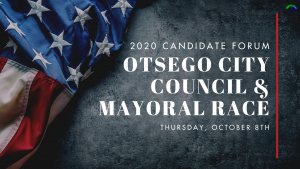 Meet the Candidates
The Elk River Area Chamber does not assume any party affiliation, nor do we endorse any candidate. We are hosting this forum to provide information about the candidates to the general public. Candidates without a bio and/or box by their name did not submit this information. All responses appear on this site exactly as they were submitted by the candidates, with no edits made.
Otsego Mayoral Candidates
Jacob Denman
I am a 31 year old resident of Otsego, I live here with my wonderful wife Stacy and our dog Tenny. I am a natural born leader, I have spent the majority of my adult life volunteering and giving back to the community. I studied criminal justice and worked in law enforcement for several years, I now work in the private sector as a Senior Financial Crime Investigator where I specialize in combating money laundering, terrorism financing and complex criminal financial investigations.
Why are you running for office? 
I am running for office because I want to provide a service to the community we live in and I have the qualifications and the experience to draw on. Our city deserves a quality, level headed mayor that will keep our residents best interests in mind, I believe I am that person.
What previous civic and community involvement will you draw on if you win the seat you are seeking?
I spent nearly 15 years volunteering for the St. Louis Park Police Department, starting at a young age as a Police Explorer, as I grew up I held roles of a Reserve Police Officer and Explorer Advisor. In college, where I studied Criminal Justice I worked for the local County Sheriff's office and later worked for a local police department. I have always held leadership roles in both official and unofficial capacities, I believe in leading by example and making sound consistent decisions. On the side, I am a partner in a small server hosting business, so I understand the complexities of owning a business, managing people and seeing the big picture through both good and bad times.
If elected, what is your top priority during your term in office?
Otsego is a super attractive place to live and work, and is on track to see steady growth and continued increased property values. My vision for Otsego is to guide the city through the upcoming growth, attract quality businesses to our community and build up a city that residents, businesses and employees and thrive in.
Tina Goede
My name is Tina Goede and I am seeking candidacy for the Mayor of Otsego. I have been on the City Council for 2 years now. If elected Mayor of Otsego I will provide sound leadership to the Otsego community. I became a resident of Otsego 9 years ago and have lived in Wright County for over 18 years.  We have 3 kids; Braydon (17) & Devin (15) & our daughter Reese (14). My family & I are members of St. Michael Catholic Church/St. Albert's Catholic Church. We are deeply rooted in this community. My education includes a Bachelor of Science degree from the University of Wisconsin-Superior, in Corporate Community Health Promotion/Physical Education. Professionally, I work as a Territory Sales Manager, for a medical company.  My hobbies include spending time with my family outdoors, going to the shooting range, boating and fitness. Thank you for your confidence in my leadership as I ask for your vote on November 3rd.
Why are you running for office?
My husband Ryan and I built our home 9 years ago, and love the fellowship of the many friends and neighbors we have met over the years as we raised our family. Throughout my adult life I have contributed to our community in a variety of ways. Coaching youth sports and serving the church in a variety of ways has been a pleasure; however, as our children have grown more independent my free time has expanded. This additional time has afforded me the opportunity to have run two years ago. I have enjoyed these past years serving as a member of the Otsego city council and have learned a tremendous amount about community development. As we know Otsego is a beautiful community offering multiple facets that are valuable to its residents' and businesses'. The small town feel is beneficial to many families yet
growth is knocking at our doorstep. It is essential that our community's elected leadership team and city staff work to strike a healthy balance to sustain Otsego's current assets while encouraging suitable progress. I have been honored to serve you these past years and have decided to seek the office of mayor to continue serving the community with enthusiastic dedication. I ask for your support on November 3rd, 2020.
What previous civic and community involvement will you draw on if you win the seat you are seeking?
As I prefaced previously I enjoy contributing to the community we live in. It has been a privilege to serve as an elected member of the Otsego city council these past years. Throughout my tenure I have served on the parks and recreation committee  and Heritage committee. I have also made it a priority to attend planning commission meetings as this team makes the decisions that are essential for Otsego's residents and businesses. I have also worked to develop positive relationships with neighboring elective city officials and staff as I believe collaboration with our neighboring cities is essential. In addition, I also hold a board position on St. Vincent De Paul an organization where we serve the poor and needy of the community. I am eager to continue supporting Otsego in the years to come and believe with positive teamwork, will come effective outcomes.
I have been married to Jim for 25 years and we have 3 grown children; Logan, Lilly and Lindsey. Otsego has been our home for almost 20 years. I have had the honor of serving the residents of Otsego as your Mayor since 2008. I served as a City Council member 2004-2008 and before that was appointed to the Park & Recreation Commissioner from 2001-2004. I am a small business owner. I have served on various volunteer organization boards over the years while living here that have directly impacted all age groups of residents.
Why are you running for office?
I want to continue to serve the residents of Otsego by promoting the City in positive ways and knowing that planning for continued growth requires being prepared to handle the challenges this can bring. I will continue to be an active member of the City Council asking the hard questions to make sure we are maintaining service levels at the most cost efficient manner possible. I regularly attend the monthly advisory commission meetings, which is where I think the pulse of what is happening in Otsego takes place not just at the council meetings, and I want to know first-hand what our residents are dealing with. I have always been committed to being an advocate for the residents of Otsego and will continue to do so because we deserve the best in this community.
What previous civic and community involvement will you draw on if you win the seat you are seeking?
I've been involved in our community since 2001 in a City capacity and with organizations serving to benefit residents of Otsego:
Mayor of Otsego (2008-current)
City Councilmember (2004-2008)
City Advisory Commission Liaison:

Park & Recreation Commission (2004-current)
Public Safety Commission (2006-current)
Planning Commission (2018-current)

Historic Preservation Commission (2004-2018)
Albertville-Otsego Fire Service Committee (2018-current)
Served on Various ISD 728 Strategic Planning and Vision Committees
MnDOT Transportation Planning Committees (2018-current)
Parks and Recreation Commissioner (2001-2004)
Otsego Lions Club Charter member
Gifts Anonymous- President
Previous board member Three River Community Foundation
Otsego River Riders member
If elected, what is the top priority during your in office?
Otsego is well positioned for growth and we have the infrastructure in the ground to allow that new development to happen (water, sewer, transportation and zoning). My priority is to continue opening new businesses in addition to the more than 30+ that have come to Otsego since I was elected to the City Council and been Mayor. We know that commercial development is all market driven not resident driven. Those developers have the capital on the line to open up businesses here in the City when they believe it is financially viable for them based on the market. We need to continue to make it as inviting as possible to bring in more shopping, restaurants, services to create jobs for our residents and to reduce property tax burden on homeowners.
My name is Jeff Dahl and I am candidate for Otsego City Council. I have resided in Otsego since 2013 with my wife and three children. I have an Associates Degree in Business Management and managed my own rental properties for years. Over the 7 years of belonging to this community, I have volunteered my time as a Cub Scout Den Leader, Fundraiser Chair and for numerous school events. In my free time, I enjoy supporting local businesses by attending car shows, spending time at the lake and four-wheeling.
Learn More | Contact
Why are you running for office?
I am running for City Council because I want to work with other leaders for the betterment of our community to hopefully take some of the burden off the taxpayers shoulders and to keep the City of Otsego affordable to raise a family. I care about the quality of life and keeping the city economically viable for years to come by ensuring projects are competed on budget and in a timely manner. I am also focused on the water quality, especially with building the fourth Water Tower without a filtration system.
What previous civic and community involvement will you draw on if you win the seat you are seeking.
I have two decades of experience of mentoring others, to provide them with guidance and support in order for them to succeed in their professional and personal goals. By not having any formal experience, I am hoping to bring a fresh perspective to the City Council of Otsego.
If elected, what is your top priority during your term in office?
I would like to meet with the Wright County Assessor to discuss the budget to maintain our current property tax rate or decrease them in the upcoming years to make housing affordable to everyone.
My Name is Britany Moores. My family and I have lived in Otsego for 4.5 years. I have been married to my husband Donnie, for 7 years. I am a Registered Nurse. I worked In Fairview Hospitals as well as Fairview clinics. We decided when our son was 6 months old that I should be home with our children. So, that is currently my role and I love being able to spend this time with them now. It goes so quick! We enjoy spending time in the parks of Otsego and we look forward to being part of our ever growing and changing city.
Why are you running for office?
I wanted to run for Otsego City Council because I just love living here. I love the land, The rural area, but also being able to have access to gas, groceries, and dinner on a Friday night. I am looking forward to the opening of Coborns, Prairie View Middle School, and the Fire Station. Education and public safety are important to me. I want to know what the residents of Otsego need and what they feel Otsego can or should do better with. I want to be a voice for all of you. I want to help in anyway that I can. I look forward to voting on November 3rd.
I have been married to Kristy 13 years and we have 3 children; Wesley, Jacob and Jessa.
Overhead Electrical Transmission Line Design at Great River Energy for 17 years.
City Council Member for Otsego since 2016. Park & Recreation Commissioner (2013-2016).
Volunteer for many of the City of Otsego at Park & Recreation events for children.
I am a voice for our senior citizens and I have been an Advocate for Elder Voice Family Advocates since 2018.
I have volunteered as a youth baseball coach and been involved as a soccer parent for over 12 years in the Otsego/Rogers area.
Why are you running for office?
Otsego, and this entire area has been very good to my family and I in the 14 years that we have been apart of the community. In total, I  have served over 7 years now for the city; first on the Park & Recreation Commission helping build 3 new parks and provide programing and community events and currently  on City Council, in which I am finishing up the final year of my first term.
I have voted for and helped define what our long-term vision is with respect to our infrastructure, economic development, public safety plans and community development. I have learned (and enjoyed) this position, that I have gone back to school for Business and Public Administration at Liberty University in which I was inducted into the collegiate honor society for my hard work.
In addition to our city, I have worked alongside leaders of  neighboring cities, County and State Leaders in securing grants for public safety, parks and trail systems, My biggest contribution to the public has been my work in protecting our senior citizens and elderly against abuse and neglect in state care facilities. I worked alongside Senators Karin Housley and Mary Kiffmeyer in addition to the Governor's office in getting the historic H90 bill passed. I love what I do and I especially love the people, history and our community and I hope to continue and be a part of this community along time.
What previous civic and community involvement will you draw on if you win the seat you are seeking?
City Council Member (2016-current)
Vice-Chair, Park & Recreation Commission (2013-2018)
City Advisory Commission Liaison:

Public Works Department (2018-Current)
Historic Preservation Commission (2018-Current)
Park & Recreation Commission-Alternate* (2016-2018)
Public Safety-Alternate* (2020)

Vice-Chair, Otsego Economic Development Authority (EDA) (2016-current)
Wright County EDA Task Force *Appointment by Wright County (current)
I-94 Coalition (2016-Current)
Elder Voice Family Advocates member (2018-current)
If elected, what is the top priority during your term in office?
Otsego is (or soon to be) the largest city in Wright County with approximately 17,000 residents and an expected 30,000 residents by 2030. The infrastructure that has been put in place with respect to local and county long term transportation plans, is conducive for adding additional commercial expansion. Over 12 new businesses and over 750 new jobs have been created since 2016 when I was elected and we have the short and long term plans in place to augment our EDA,; these jobs are not only good for our residents, but also beneficial in attracting future retail and restaurants I recommended that Otsego start a business outreach program to have stronger communication with our local businesses and I voted for and supported getting aid to our businesses during the COVID-19 Pandemic. We are very excited about Coborn's joining our city this fall and the excitement they will bring to our downtown. Otsego" is Mohawk, meaning "Friendly Meeting Place", and I want it to stay that way; rural enough to see farms, travel dirt roads, but offer convenience with additional retail, restaurants and commercial development.
Rayman James
My Name is Rayman James I grew up on a Family Farm in Central Minnesota, I am self employed in the Ag industry and a musician as well plus I drive Uber for a bit of fun in my spare time.  I have lived in Otsego for 16 years.
Why are you running for office?
Running for office because I want to actually make a difference I want to change things, I am running because I am angry at how things have been run and someone needs to make a change.
If elected, what is your top priority during your term in office?
If elected I will work hard to give Rights back to the people in the form of changing municipal codes to give Home Owners more rights to actually make decisions for their own properties.